Shopping Cart
Your Cart is Empty
There was an error with PayPal
Click here to try again
Thank you for your business!
You should be receiving an order confirmation from Paypal shortly.
Exit Shopping Cart
Psychology absolutely fascinates me! The human brain is an amazingly created organ and although everyone believes they have a certain mindset, the way we think and feel can be influenced by many outside forces, like colour. I was driving in my car yesterday with a friend and we came across this lime green house... yup you heard correct... the entire exterior of the house was lime green. My friend threw a tidbit of information my way "did you know that if you want to slowly go insane, paint your entire house green?". We laughed at this however, I thought that it would be a good time to delve into this more fully and see exactly the power that colours can exude over us. This was not an easy task!
The first amazing fact that I came across is that contrary to what I had previously thought, there has not been as much research done on colour psychology as you would think. Companies have tried however, colours are perceived in different ways by different individuals which makes it very difficult to narrow down the effects. This makes sense to me: if there was one "secret sauce" then marketing a product would not be a crap shoot; advertisers would know exactly what colours to use to appeal to their target audience. But it takes time, energy, money to find out what works for you, your industry and your brand. That being said there are a few findings that have been discovered, take them with a pinch of salt:
Green is a calming colour. Everyone has heard of the "green room" which is used to help people relax. People who want to be perceived as being eco-friendly will use green in their decor. It can also be a negative colour as it is the colour that describes jealousy.
Blue conjures up feelings of calmness, serenity, peace, tranquility. It can also create feelings of sadness (he had the blues). Research has shown that people who work in blue rooms are more productive (I wish my kids were more productive when it comes to cleaning up their blue room!).
Orange is an energetic colour and is also the first colour that catches the eye. It also calls to mind feelings of excitement, enthusiasm and warmth. I recall a glossy magazine ad with nothing but a white room and two orange candles – very eyecatching.
Yellow is a cheerful colour (what is more cheerful that a bunch of sunflowers displayed in your home?) however is fatiguing to the eye. It is a good colour to use when immediate attention is required, such as at a traffic light. People tend to lose their tempers more in yellow rooms and babies tend to cry more. Hmmm, not a good colour choice for a nursery?
Black is a very sophisticated and dignified colour. It is also intimidating, radiates authority but creates fear in the process. Business people who wear a lot of black tend to get results, but don't make a lot of friends in the process.
White is a clean, pure and refreshing colour. A good base to use in design however, additional colours need to be added otherwise it will come across as clinical and cold.
Interestingly, there appears to be no psycho analysis performed on Pantones Colour of the year - masala. So ehm, I am going to put on my own "psychology cap" and take a shot at it!
Masala – masala is a combination of a few different tones. The first that come to mind are red and orange which are colours that make us think of passion, action, and are very attention seeking. The addition of the colour brown tends to tone down the powerful emotion of the previously mentioned colours and gives it an earthy, organic feel. I would describe masala in a nutshell as Muted Passion. It also makes me very hungry as I love east Indian food!
Oh by the way, you may be wondering whether or not my friends comment about a green house driving you insane is true or false. I can't find any evidence. My house is greenish (teal to be precise), perhaps she was trying to tell me something? 
My clients had this sofa in their basement.  When their very easygoing daughter moved back home to help out, she needed it gone immediately and relaced with something more subdued.  They opted for a neutral fabric in a brown tone.  Now everyone is happy!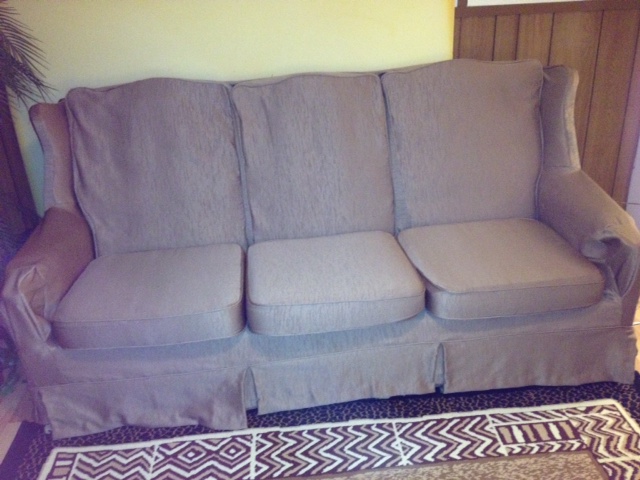 Categories: None
Members Area




Recent Photos




Recent Blog Entries




Testimonials
/