Shopping Cart
Your Cart is Empty
There was an error with PayPal
Click here to try again
Thank you for your business!
You should be receiving an order confirmation from Paypal shortly.
Exit Shopping Cart
As a certain clothing line attempts to recruit fans to their Facebook page, I read with interest the comments below each of their postings: "how could anyone support such a company", "aren't you the guys that allowed all those workers to die in Bangladesh", "you support slave labor working conditions, would never buy your products" etc.. etc.. etc.. The truth is yes, the working conditions aren't great but really, should they be targeted as the "Joe bad guy" over every other corporate retail company?

Years ago, I worked at a place called the Office of the Employee Ombudsman. One of the industrial consultants had the assignment of organizing a candlelight vigil in support of outworkers who's working conditions were below standard. Now you are probably thinking that I am referring to a third world country... Think again... yup, this happened in lil ole Adelaide, South Australia. As the western world is accepting more and more immigrants, it would not surprise me if many of these immigrants aren't working under the table in close to slavery conditions in our own backyards.
My slipcovers can be a hard-sell. Whether or not people view my product as being cost-effective or not is relative. People either get it or they don't; for those that know a little about sewing and the effort that goes into custom work, they feel that my prices are very reasonable, for a quality product. For those who compare my product to something that they could buy in a furniture store for a fraction of the price, well these people have a different opinion. Its funny how we all complain about the lack of quality today however, I truly believe that you still can find quality, it is in handmade, custom lines. It does cost extra, but when the product lasts four times as long as something you would buy in a big box store, then isn't it worth the extra initial expense?
Doing what I do and knowing what I know, I have a hard time accepting the fact that you can buy a sofa "made in Canada" for $400. It takes a carpenter to do the initial framing, foam is expensive, plus the cost of fabric, labour involved in the upholstery work and fabricating the cushions – how can companies account for all those costs, sell the item for $400 and still make a profit? To compare, it takes approximately 20 hours to make a custom slipcover from start to finish. I just don't get the $400 price point! Perhaps the entire sofa is made overseas and the label is made in Canada? This is a well hidden secret so if anyone has any insight, would love to hear from you.
The truth is, we all like that steal of a deal. I try my hardest to support local businesses and buy quality products, but if I happen to see a cute sweater on the racks for $12 do you think I am going to buy it? You betcha! So what is the answer? I don't know. Everyone has a certain amount of money to spend on a weekly basis and they want that money to go as far as possible. As long as cheap imports are available, we are going to buy them. So to a certain degree, while we are all disgusted by what happened in Bangladesh and elsewhere, we are all a little hypocritical. That is society – suck it up!  Going forward, I will try a little harder to support local businesses, hoping that the favour will be returned.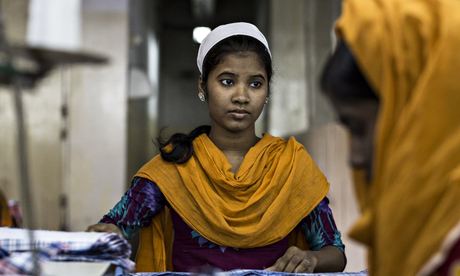 "I don't really want to start working again. Most people here feel the same way. We're afraid. I just heard about another factory where there are cracks in the walls" - Mushamat Sokina Begum
Categories: None
Members Area




Recent Photos




Recent Blog Entries




Testimonials
/