Shopping Cart
Your Cart is Empty
There was an error with PayPal
Click here to try again
Thank you for your business!
You should be receiving an order confirmation from Paypal shortly.
Exit Shopping Cart
There are certain rules when it comes to decorating... "the rules are that there aint no rules" (excuse the self-indulgent quote from Grease). Currently, the rule is no matchy matchy. In other words, find pieces that you love, pieces that really mean something to you and make them work. This one I kind of agree with. I think the difference between a house and home is the the personality that is added, based on life experience, mementoes, travel souvenirs, children's artwork etc. Each room should be functional of course, but more importantly, should mean something to the family living there. This is a hard act for me to follow as I am very much a match-match symmetry freak (a slight case of undiagnosed OCD perhaps?) but I have experimented with different designs in different rooms and yes, adding an interesting focal point is a great thing.
The other "rule" is one that I assume was invented by real estate agents who claim that the average person sells their home every 5 years. That is, to keep the wall colours neutral. Why? As any home stager will tell you, the best way to sell your home is to make it look as impersonal as possible – hence, why go to the expense of painting walls according to your taste if you will be soon be moving. Disagree! Even if you do live in a house for 5 years, it should be 5 years of living amongst colours that you enjoy. After all, colours are powerful and can effect your mood in both positive and negative ways. My home is very colourful: the main living areas are three different shades of teal, the boys bedroom is blue, main bedroom is a Mexican yellow and my workroom is salmon pink. There was a small part of me that said "enough already with the crazy colour pallet" however, why the heck not? We live in a climate where it is –20 for 8 months of the year (slight exaggeration... but we are nearing the end of winter and it feels as though it has lasted forever). We spend a lot time inside and it is easy to get cabin fever/stir crazy but then we look at our walls and figure – wow! We are living in a circus! And that my friends, when you have two children cooped up in a house all winter, can't be a bad thing! 
In conclusion, for those of you that like neutrals, good for you! For those of you that like matchy matchy – good for you! Whatever your taste in decorating, your home will be your little oasis if you stay true to your own style – whatever form it may take!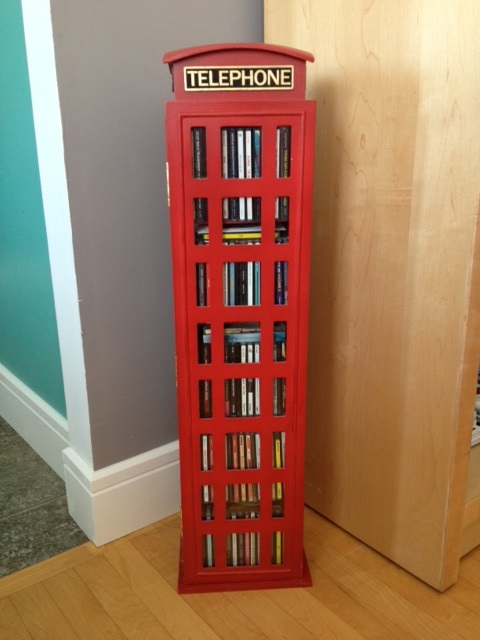 Picture:  My living room was lacking personality.  This London phonebooth/cd holder from Jysk (approx. $30) was the quirky touch that it so desperately needed.  I had lived in London for 2 years and my father's side of the family is English so the UK has special meaning to me.
Categories: None
Members Area




Recent Photos




Recent Blog Entries




Testimonials
/